Weʻre doing things a little differently this weekend because itʻs the 2016 Love-A-Thon Weekend! I am super excited to be joining in on this fun way to get to know and leave a little lovinʻ for fellow book bloggers, bookstagrammers, & booktubers. There will be a post talking alllll about that tomorrow!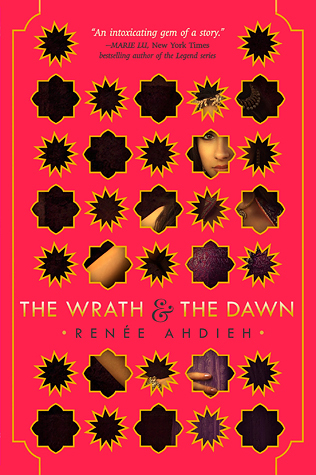 Title:
The Wrath and the Dawn
Author:
Renee Ahdieh
Publication:
May 2015, G.P. Putnamʻs Sons Books for Young Readers
Links: Goodreads - Barnes & Noble - Amazon
Rating:
4.75/5 Lollies
Review:
Khalid, the boy-king Caliph of Khorasan is known as a murderous monster. Every day, he takes a new bride only to have her killed at dawn. When her best friend, Shiva, falls victim to the monster, Shahrzad (Shazi) volunteers to be his next bride with plans to avenge Shivaʻs death. Of course, things change once Shazi is in the den of the beast. Shazi enchants Khalid night after night with her stories in hopes that he will spare her life but knowing each night could be her llast. As Shazi gets to know the boy-king she realizes that he is nothing as she imagined or as the rumors paint him to be.
I attempted to read this book once before but I couldnʻt get into it simply because I didnʻt have enough time. I am so glad that I decided to give it another try because I just loved this book! Like, I did not ever want to stop reading this book. It made me feel all the feels...and Iʻm pretty sure that I cried a little (or a lot-no judging!) when the book ended. I also refused to read the last two pages of this book for a good 5 minutes because I did not want it to end. I need the next book ASAP. Okay, thanks.
What I Liked
:
-
Khalid
. Seriously, I would feel weird if I didnʻt mention him right away. Khalid is my newest book boyfriend and I am obsessed with him. THE WORDS HE SAYS...ugh. And THE THINGS HE DOES...double ugh. I just freaking love him. And I loved him from the beginning even though I knew he was a murderous crazy person.
I wonder what that says about me? Hmmm...
I especially love him because there is so much more to him than what meets the eye. I just want to hug my poor, tortured baby and tell him that heʻs gonna be okay.
-
Actually all the characters
. I found all the characters to be extremely well-written and interesting. They werenʻt one-dimensional characters at all. Every single one had layers and layers of information yet I still donʻt feel like I *know* them. Even the characters that I hated were written in a way that made me want to hate them.
-
How the story was reimagined
. Iʻll be honest, Iʻve never read
A Thousand and One Nights
and I donʻt read a lot of books with Persian or Arabic influences. After reading this, though, I am definitely going to pick up more books like this! What I enjoyed most about the book is that the author took elements from the culture and from the story and made her own world with it. Itʻs original, but still true to itʻs roots. i love that!
What I Didnʻt Like:
-
Tariq
. Yes, he was well written and interesting and whatever. I just donʻt like him in general. He can go away now. #TeamKhalid
-
Certain parts of the story
were a little slow, particularly toward the middle. I tended to skim through those parts. A lot of the action doesnʻt happen until you get further into the book which can make some parts seem to drag on.
I really, really enjoyed this book. It was interesting and well written. I absolutely fell in love with the characters. I just did not want this book to end at all. I borrowed it from the library but I plan to order a copy for my shelf ASAP. Tell me again how Iʻm supposed to wait until May for the second book?!