Title:
The Nanny Diaries
Author:
Emma McLaughlin, Nicola Kraus
Publication:
2003
Links:
Amazon
-
Barnes & Noble
-
Goodreads
Rating:
2.5/5 Stars
Review:
Iʻm gonna be honest right off the bat here, I only picked up this book because Chris Evans is in the movie and I would like to watch Chris Evans in this movie, however I do not watch book-to-movie adaptations until I read the book. So basically I was forced to read this book. Anyway, this book is basically about a Nanny to New Yorkʻs rich and powerful couples. The couple in question, the Xes have issues...i.e. absentee/cheating dad/husband and an overbearing mother who doesnʻt know how to raise her own kid. Anyway, Nanny does everything for the X family, even though her job is to nanny Grayer by carting him off to all sorts of lessons, play dates, and basically teaching him how to be a little human. I didnʻt hate this book, but I didnʻt particularly enjoy it either. I liked that it was well written and funny, the story flowed well and the authors did a great job of getting their point across. However, I didnʻt feel like the problems in this book were resolved at all...the book kinda just ends. I want to read the second book just because I need some kind of ACTUAL resolution. Check out my full review
here
.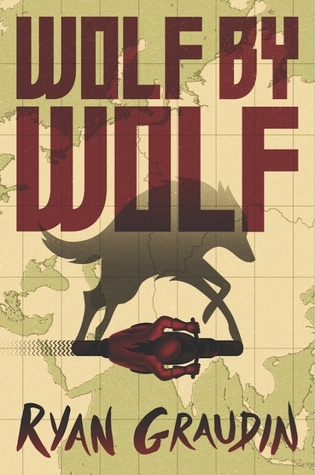 Title:
Wolf by Wolf
Author:
Ryan Graudin
Publication:
October 2015 by Little, Brown Books for Young Readers
Links: Amazon - Barnes & Noble - Goodreads
Rating:
5/5 Stars
Review:
So, this book is my current obsession and current favorite book of the year. Like...I cannot stop thinking about it and I just want to talk to everyone about this book, but I also want to make this review as coherent as possible so letʻs get to it. Hitler and his comrades won World War II and to commemorate the victory, he and Japanʻs Emperor Hirohito host an annual motorcycle race that spans several continents and ecosystems called The Axis Tours. All the racers want to win for the glory of receiving the Iron Cross and they will do anything to win. Yael, a death camp escapee, wants to win for another reason--she wants an audience with Hitler so that she can kill him. Using her skin shifting powers, a side effect of the painful human experimentation the death camp doctor dead on her, Yael poses as Adele Wolfe, the previous yearʻs winner, in hopes that the Iron Cross becomes hers. I honestly wish that I had more room to write about this book, but Iʻll stop at that and yʻall can go check out goodreads. I am normally not a fan of historical fiction books but I absolutely
loved
this one and Iʻve got to say that the writing is a big reason why. It grabbed my attention and managed to keep it. I loved everything about this book--the plot, the characters, the settings, the writing...EVERYTHING. Seriously, if you want to talk to me about it please do! Check out my full review
here
.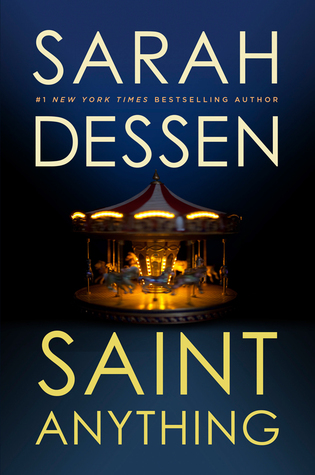 Title:
Saint Anything
Author:
Sarah Dessen
Publication:
2015, Viking
Links: Amazon - Barnes & Noble - Goodreads
Rating:
3.5/5 Stars
Review:
The last time I read a Sarah Dessen novel was probably right out of high school. I loved her books as a teenager because they were cute and realistic, like these stories could actually happen to me. Saint Anything reminded me of how great Dessen is at writing relatable contemporary YA fiction. Sydney Stanford has always felt invisible next to her big brother, Peyton. After Peyton seriously injures a teenager in a drunk driving crash, Sydney decides to make changes in her own life and she does so by switching schools. Sydney meets siblings Layla and Mac Chatham at her new school and they promptly bring her into their world of family and friends. Saint Anything is a sweet and easy read about friendship, family, love, and growing up. I enjoyed this book a lot. It was so cute and such a quick read, but it also touched on so many important themes. While reading this, I couldnʻt help but be reminded of my own time as a teenager and all the feelings that come with that time of a personʻs life. My biggest issue with this story is actually with Sydneyʻs mother just because I canʻt understand how she can go so long basically ignoring Sydney and her feelings. Must just be the Momma in me, though. I would recommend this book for anyone looking for a quick and light hearted read!

What have you been reading recently?